LEGAL NOTICE OF ELECTION SCRANTON PUBLIC SCHOOL DISTRICT #33 Notice is hereby given that on Tuesday, June 6, 2023, the annual election will be held for the purpose of electing a member of the school board, and the polls will be open at 11:00 a.m. MDT, and will close at 7:00 p.m. MDT, of that day at the Scranton School Home Ec. Room. By order of the Scranton School Board. Angie Eberle Business Manager
Driver's Ed will continue this Tuesday in Hettinger at 8:00 and will end around 10:30. Parents are responsible for getting their students to Driver's Ed as they will be driving at different times throughout the week. If you have any questions please email me at
kirby.cagle@k12.nd.us
.
4th Quarter 2022-2023 Honor Roll

Today the 1st Grade Class was asked to help bag the school sack lunches. The Sweet 16 as I coin them, packed 150 lunches in 12 minutes! Thank you to Ashely and Arica for including us in today's prep and thank you for all the meals through out the year!
Starting June 4th there will be high school mini-camps for football held at Dickinson State University after their Sunday practices. These are voluntary practices for any high school football players from the Hettinger- Scranton community. The practices would start at 7:00 P.M. and the bus would leave on Sundays at 5:30 P.M. If you are interested in attending or have any questions please call Scranton Public School at (701) 275-8267.
Daily Announcements, May 25, 2023 Daily Bulletin - Thursday, May 25, 2023 State Track Meet! Good luck to our Night Hawk track athletes as they compete at the state tournament! Last Day! Tomorrow is the last day of school with dismissal at 12:30. Have a great summer! Quote of the Day "Whatever you choose for a career path, remember the struggles along the way are only meant to shape you for your purpose." ~ Chadwick Boseman
Congratulations to Maddox Pierce and Devin Greff on being Region 8 Baseball selections! pc Coach Dix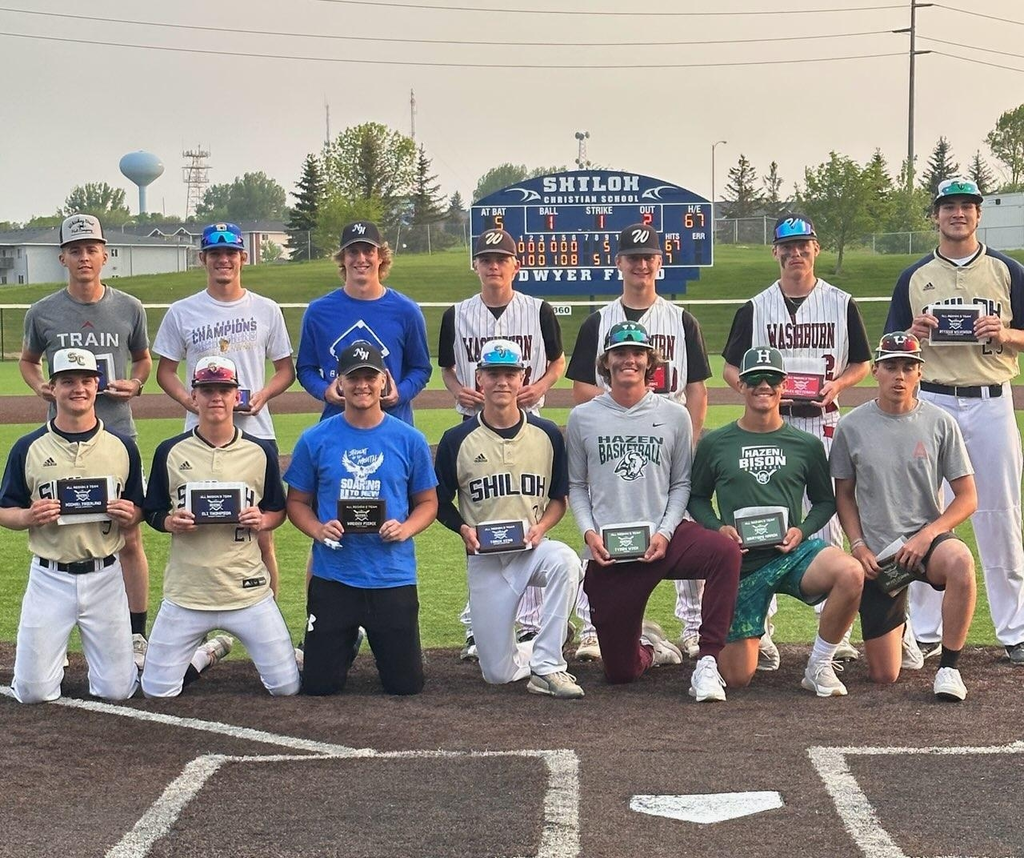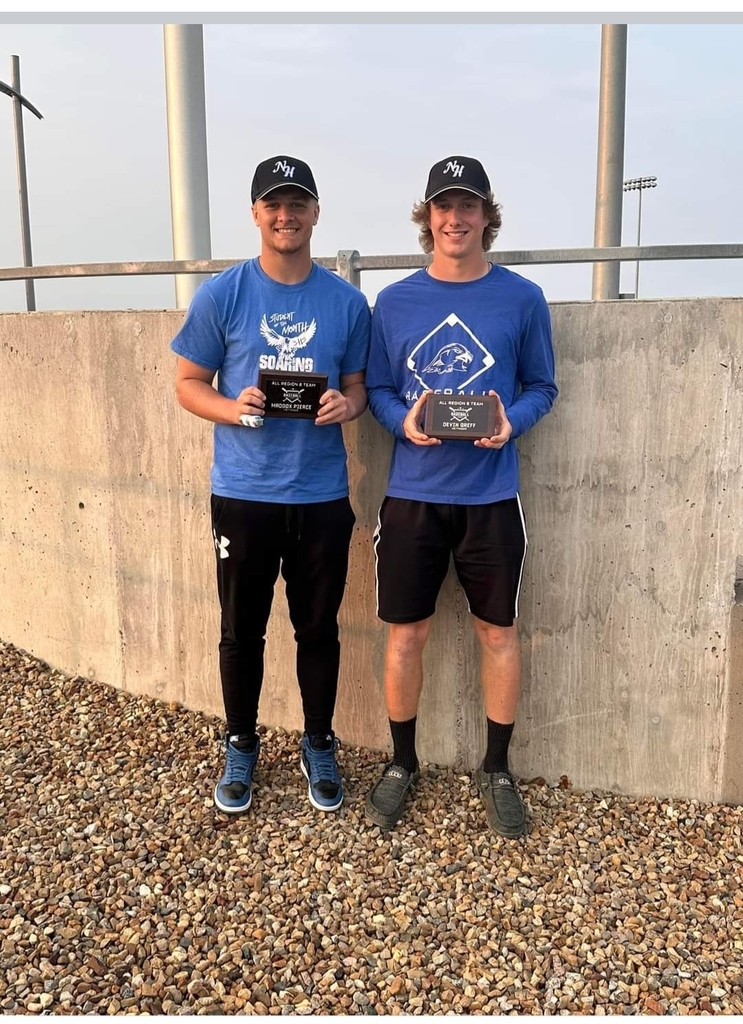 The field trip bus is just leaving Spearfish at 5:00 p.m.
Daily Announcements, May 24, 2023 Field Trip Grades 3-6 are on their field trip to Spearfish today! Awards Program There will be an awards ceremony at 2:15 this afternoon for the JH and HS. This will include some extracurriculars and miscellaneous awards. The public is welcome. Last Day of School Is this Friday with dismissal at 12:30! Electronic Devices Will be checked in during last hour today. Quote of the Day "Sometimes the smallest things take up the most room in your heart." — Winnie the Pooh

Shout out to the Scranton Equity for volunteering to grill our burgers and hotdogs for field day Monday. The students had a blast and were well fed that day.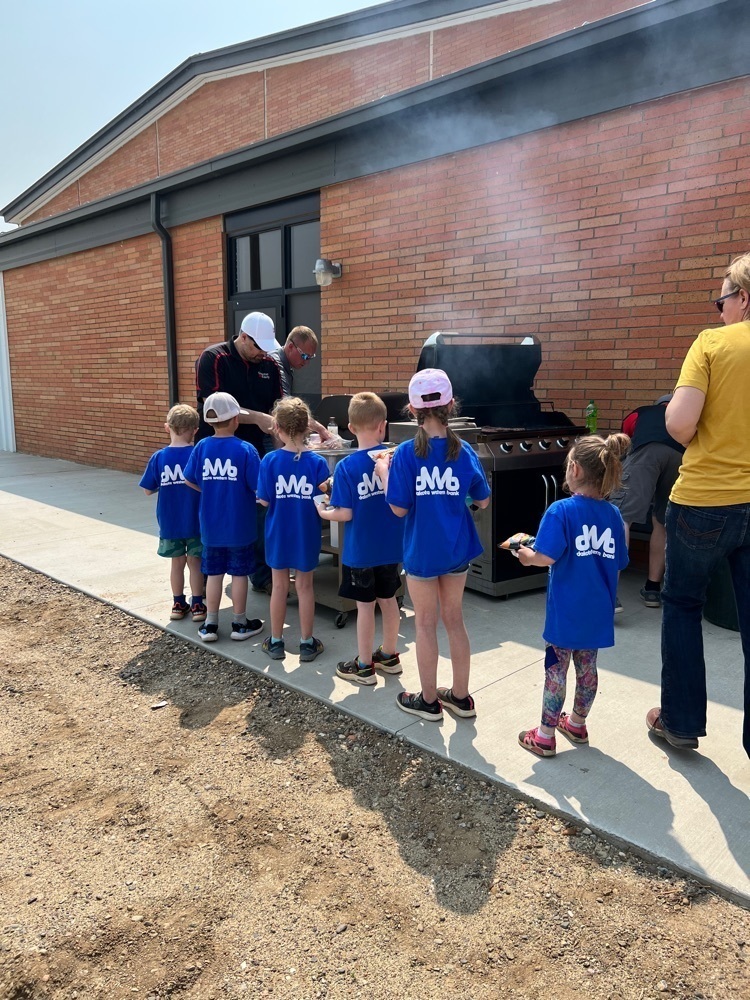 Field day was a success! Thank you to Dakota Western Bank for the shirts this year, the Scranton Equity for grilling, all of the Scranton staff for helping out, and the community for coming out and supporting our kids!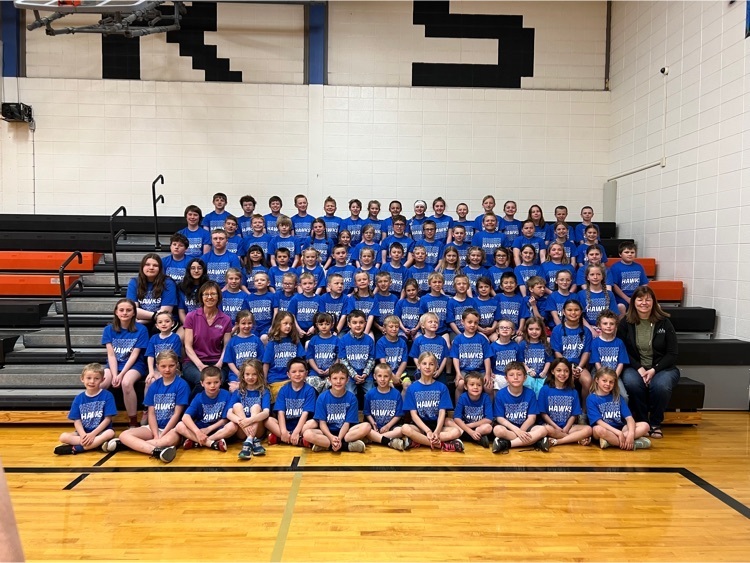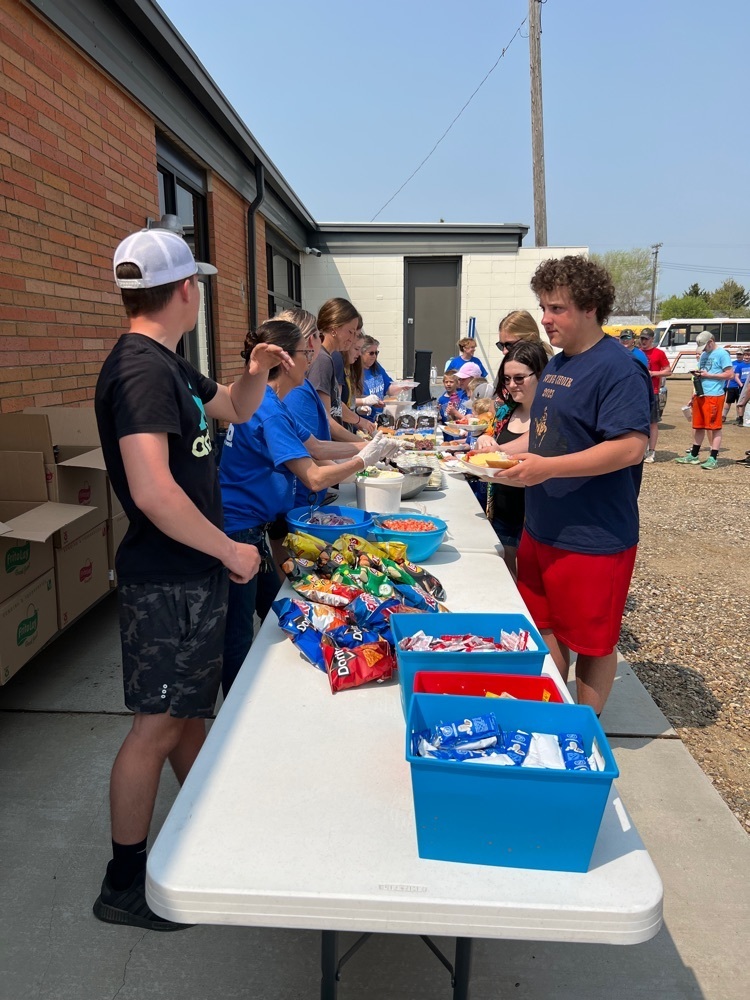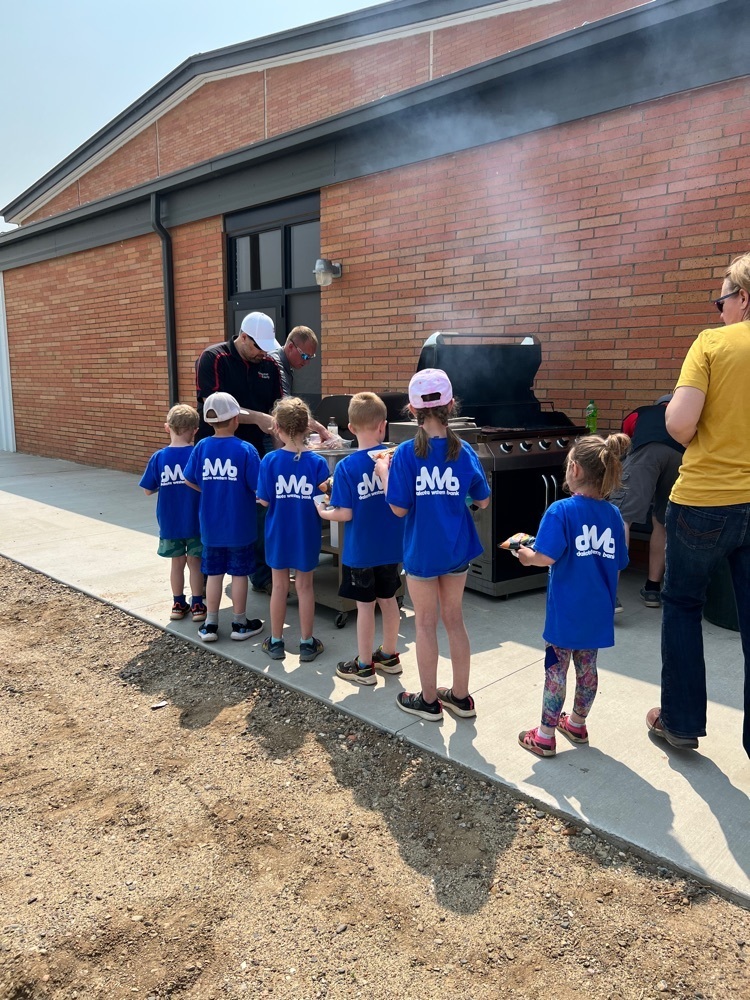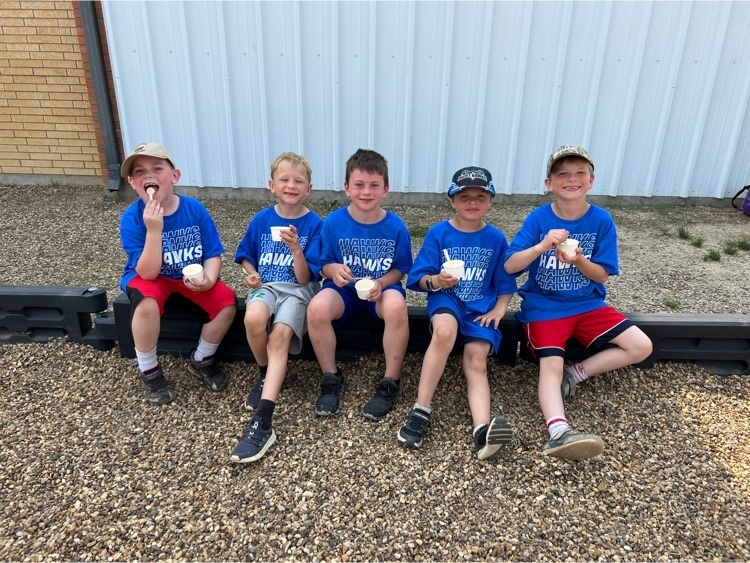 Thank you, Bowman Ambulance members EMT Danyel Titus and Medic Lindsey Schaaf for bringing the ambulance in observance of EMS Week.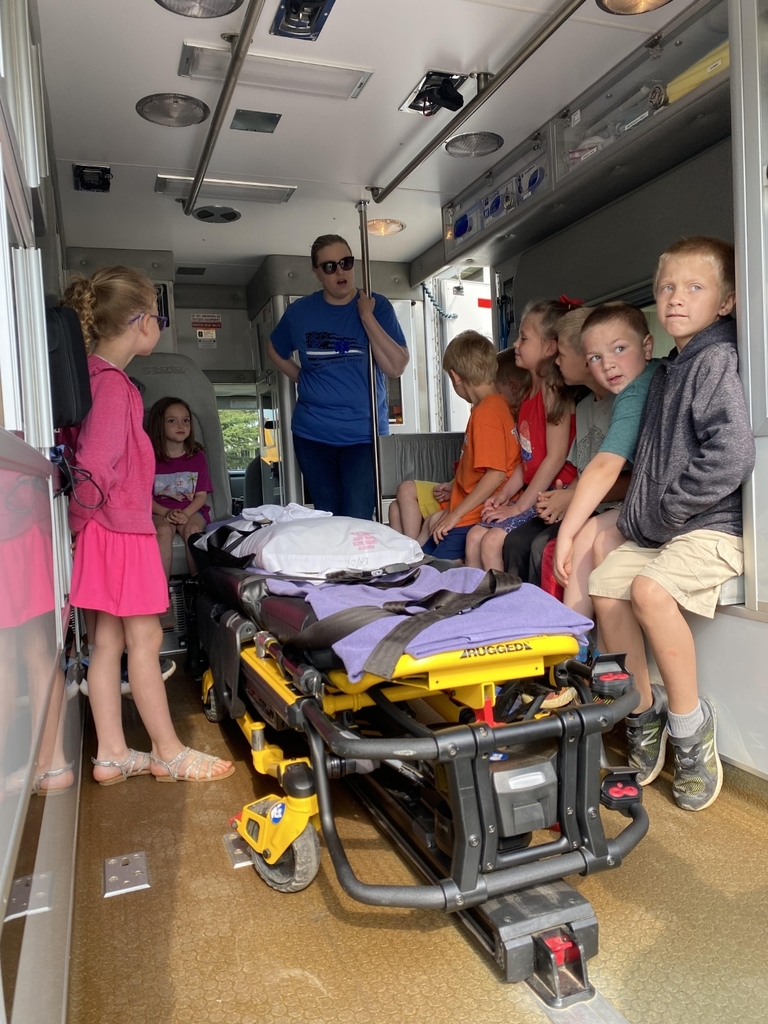 Daily Announcements, May 23, 2023 Regional Baseball The Night Hawks continue playing today at 10:00. Good luck! Electronic Devices Will be checked in during last hour tomorrow (Wednesday). Quote of the Day "Your education is a dress rehearsal for a life that is yours to lead." — Nora Ephron
Summer Pandemic EBT (P-EBT)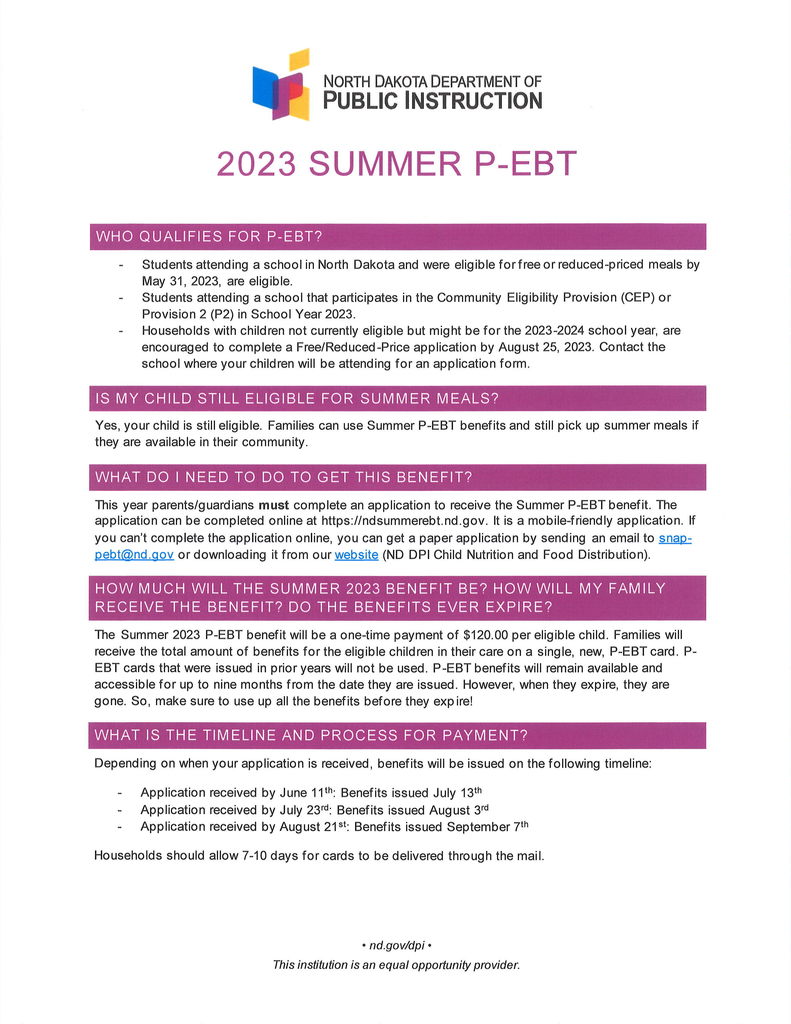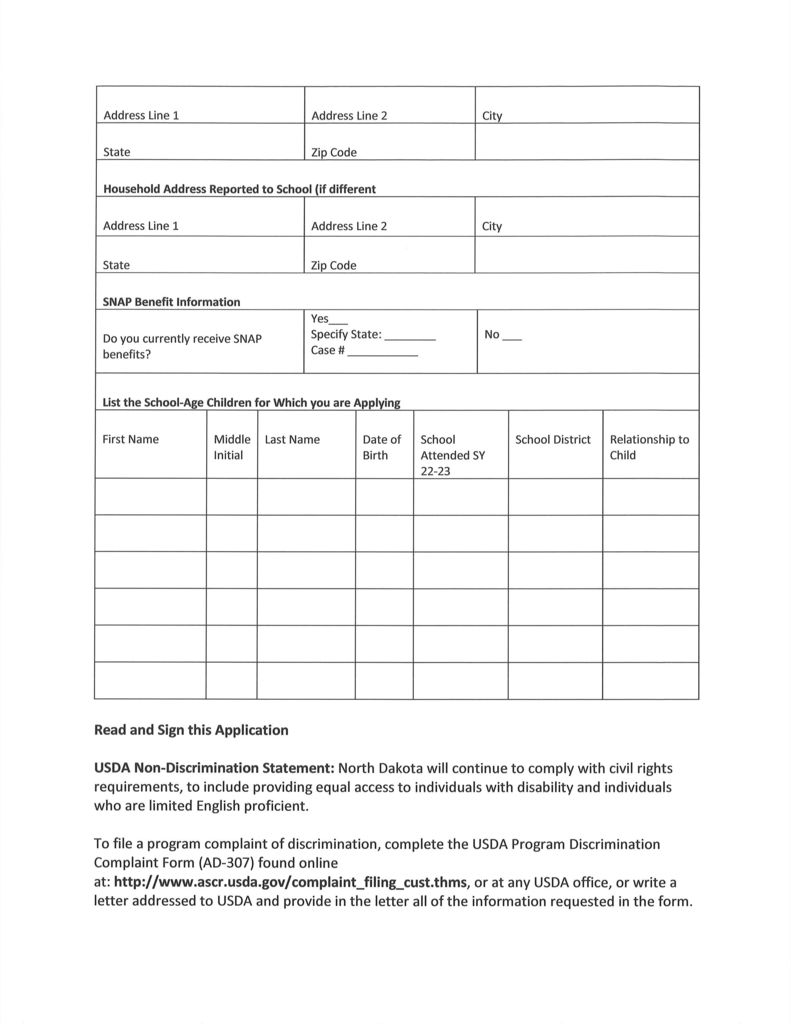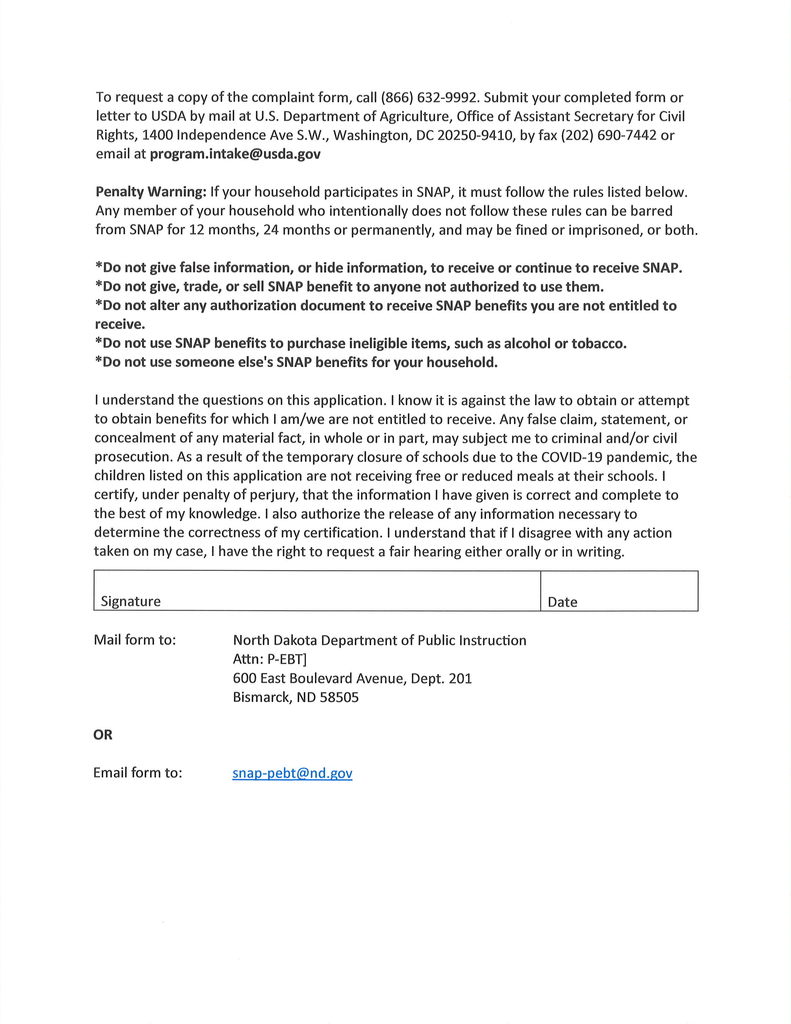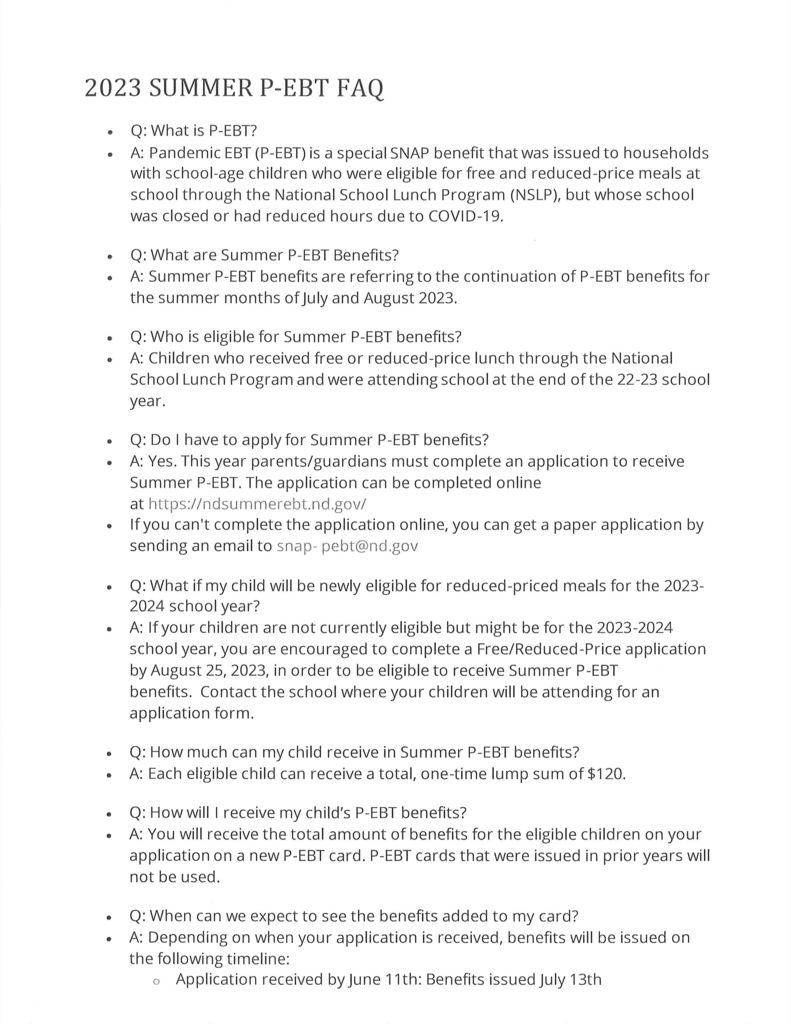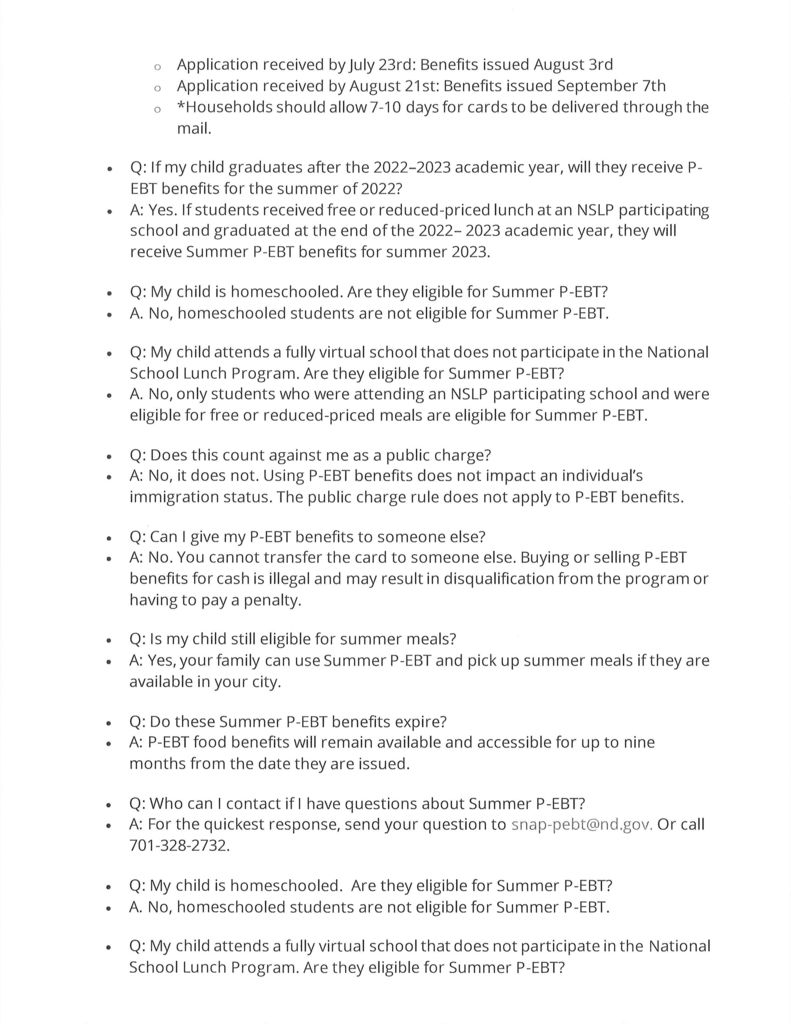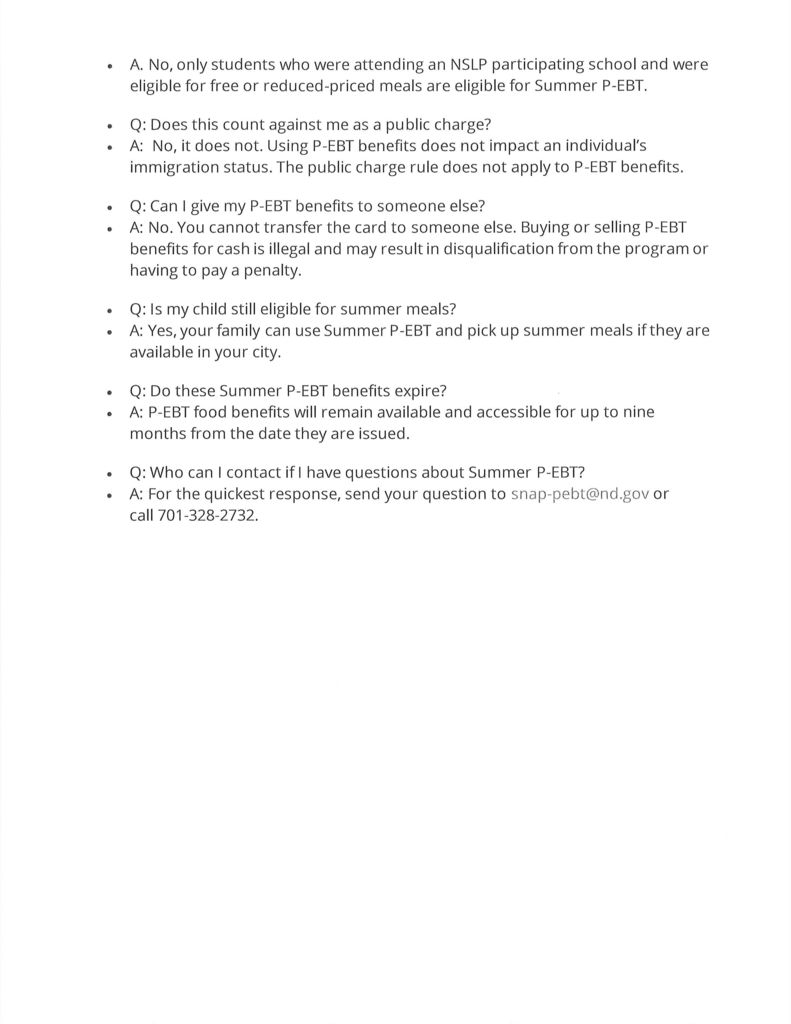 We are serving until 12:30. Come up and eat burgers and hotdogs

Play Day starts today at 12 noon. The students at Scranton Public School would like to send a huge thank you to Dakota Western Bank for sponsoring our Play Day t-shirts. Your generosity to the Scranton School was outstanding and is greatly appreciated.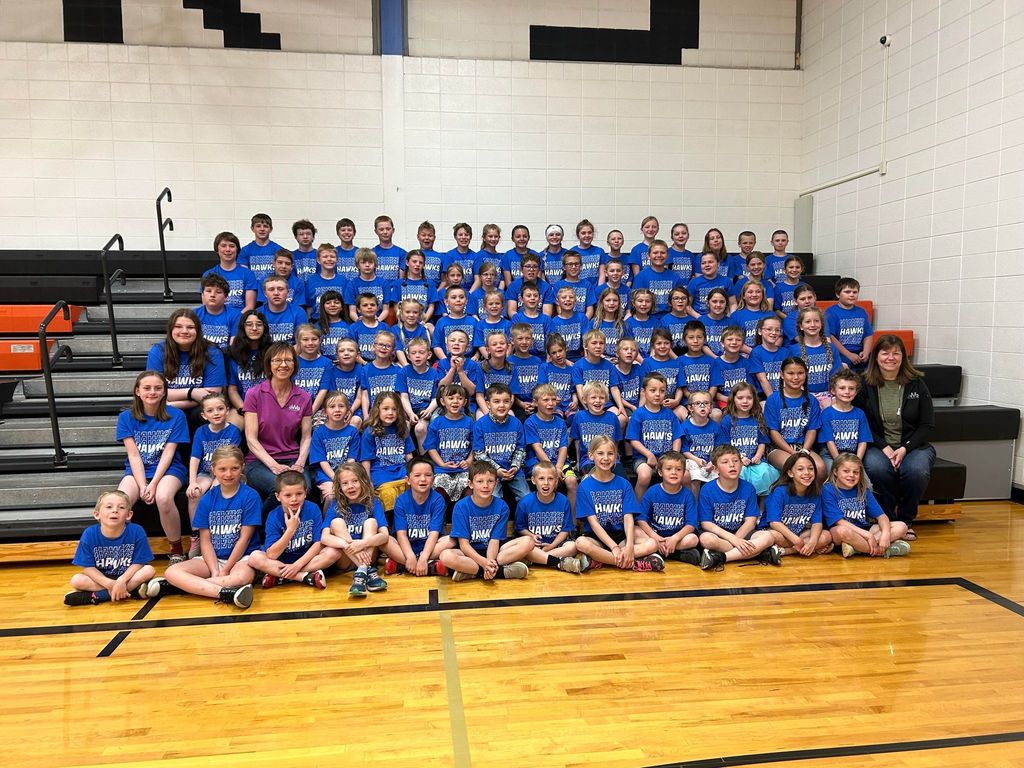 Daily Announcements, May 22, 2023 PK Graduation! Is today at 10:30! Baseball Good luck Night Hawks as they compete at regionals! Free Will Lunch and Elementary Field Day There is a free will hamburger/hot dog lunch on the north side of the kitchen today from 11:00-12:00. Proceeds will help fund the complex playground. Elementary Field Day will start at noon. Thank you for your support! Quote of the Day "I'm not telling you it's going to be easy — I'm telling you it's going to be worth it." — Art Williams
The Nighthawk track team will be having a BBQ in Hettinger on Monday for our final "practice" of the year! JH/HS track kids are all welcome and encouraged to come. Scranton will leave directly after school to head over to Hettinger.
The bus for baseball will leave at 6:20 tonight from Scranton for a 7:00 departure from Hettinger. Good luck at regionals!